Broadband
Bundle mobile with broadband in days
Get more and keep more from your broadband base. Launch no-code nationwide with Gigs, and get 25 new mobile lines per 100 broadband subscriptions.
Market Share
Play to your advantage
Bundle your core offering with mobile. Provide more value to your customers, increase loyalty, and stay ahead of the competition.
Customers with broadband and mobile lines have up to 50% lower churn. Be the one-stop-shop for all your customers' connectivity needs: at home, at work, and on-the-go.
A bundled mobile and broadband offering gives you more room to play. Create attractive offers to win new customers and wow existing ones.
More monthly revenue with no new infrastructure. Launch fast with zero setup or onboarding fees, and unleash a new revenue stream.
Time to Market
Start fast with no hassle
Gigs is the quickest and easiest way to launch your own mobile service. Choose your networks and launch nationwide in days.
Launch your own branded mobile service without any onboarding fees, new hires, or letters of credit.
When you launch with Gigs, there are no marketing limitations on your mobile plans. Win new customers with broad-scale campaigns.
Broadband companies launch mobile with Gigs. We do the heavy lifting: telecom taxes and fees, payments, support and even your marketing campaign.
Nationwide coverage
Affordable, carrier-grade voice and data plans with 5G and 4G LTE coverage and hotspots.
eSIMs and SIM cards
Make your offering accessible to anyone with multi-format SIMs from a range of carriers.
No-code
Integrate your mobile offer anywhere on your website or materials, with just a link.
Your brand
Stay in control of your brand and pricing at every customer touchpoint.
Flexible cancellation
Customers can cancel their plan anytime, and stop paying at the end of the month.
Your ideal offer
Data packages to suit any need, from 1GB data-only plans to a variety of unlimited plans.
Gigs Connect
Mobile sales and support on autopilot
Your plug-and-play hosted checkout for mobile plans. Customers sign up, pay, activate their SIM and manage their plan via Gigs Connect.
How it works
Select
Your customers select a plan and sign up in under 3 minutes.
Choose from multiple nationwide carriers and plans.

Choose a SIM type: a SIM card or eSIM.

Number port-ins are supported across all major carriers.
Pay
Customers pay for their plans securely online.
Accept payments from all major credit cards, Apple Pay and Google Pay.

Payment methods are saved for AutoPay. One-time top-ups are also supported.

Over 70% of failed payments are recovered with automatic retries.

Telecom taxes and fees are auto-applied.
Activate
SIMs and eSIMs are activated instantly.
Customers activate their new SIM card or eSIM by scanning a QR code or clicking a link.

Activation guidance and eSIM installation guides for all devices are available in Gigs Connect.

All SIMs are fully activated and ready to use within minutes.
Overview
Gigs at a glance
The world's first international telecom platform. Wholesale connectivity meets branded customer experience. Mix and match Gigs' products to build your ideal mobile service.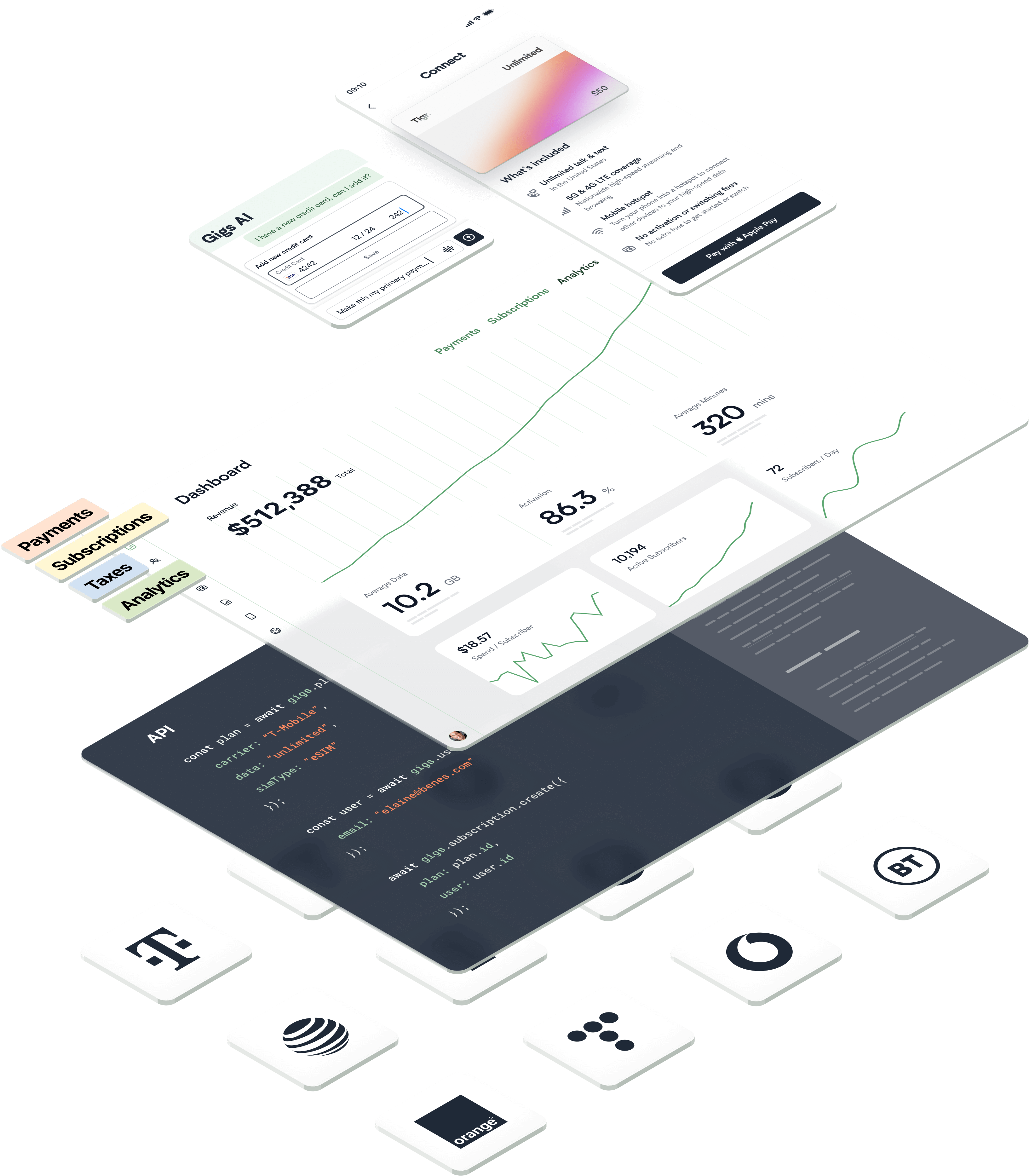 Customer Insights
"Thanks to Gigs' end-to-end capabilities, we were not only able to launch a compelling wireless service in a matter of days, we also now have deep insights into subscriptions, usage, conversion rates, payments, and more, giving us a key competitive edge."